2016 MDA Chili Cookoff
On behalf of the Muscular Dystrophy Association and the Colorado Springs Professional Fire Fighters Local 5, are thrilled to invite you to our Annual Fire Fighter Chili Cook-Off! This year's Fire Fighter Chill Cook-Off will be taking place on June 24th at the Fan Fest in Downtown Colorado Springs.
As you know, this is a high-profile event with over 10,000 people expected to attend. Full details of the Chili Cook-Off are attached. Please note that booth space is limited and will be reserved at a first-come basis, so please contact Brian Kurtz as soon as possible to reserve your team's booth.
You can find the flyer and a link with the registration form under the "EVENTS" tab, "MDA", and "Chili Cook-Off"
As always, we cannot thank you enough for your support of the Muscular Dystrophy Association and our mission of helping to find a cure! We Look forward to seeing you out there! If you have any questions, please contact Brian Kurtz at 719-291-1076
Download:

2016 Chili Cook-Off Flyer [32874].pdf ,

2016 Chili Cook-Off Registration Form [32875].docx
Fill the Boot Campaign 2015 Totals
After receiving a final tally from the bank earlier this week, The Muscular Dystrophy Association of Colorado announced that the Colorado Springs Professional Firefighters Association Local #5 and the Colorado Springs Fire Department raised $119,924 for the 2015 Fill the Boot Campaign!  This is the 2nd highest amount in the State of Colorado sacrificing our #1 position to Denver Fire. 2016 has our title in sight with a goal of $130.002!!!

Fire Chief Ale Fundraiser
Thank you to everyone that came out to support our MDA/Rockbottom Fire Chief Ale fundraiser over the past month! The fundraiser continues until April 7th, so please feel free to stop on by and have a Fire Chief Ale in support of muscular dystrophy. We also want to thank all of the volunteers from Local 5 that helped make this event a success yet again. It was a pleasure to get to spend time with our very own Cary Sloan and Savannah Clear who are both affected with different forms of MD and both made a special appearance at Rock Bottom on ST Paddy's day! It was a great time and so many friends and family were able to stop by and share time with them both. We will continue to keep up the fight until we find a cure!
MDA Summer Camp '16
In June of 2016 Local 5 firefighters will again venture up to the Easter Seals camp near Winter Park to spend a fulfilling week with our MDA kids. This is very rewarding and activity filled week where our Firefighters become a companion to a child with Muscular Dystrophy and they will get to experience fishing, arts/crafts, games, swimming, horseback riding, and much more! If you are interested in becoming a counselor please contact Kurtz 719-291-1076
Fill the Boot Campaign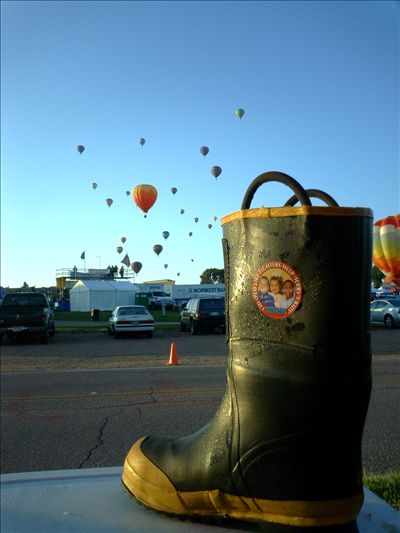 Fill the Boot Campaign:
2000 - $14,173
2001 - $12,910
2002 - $37,743
2003 - $64,021
2004 - $61,743
2005 - $101,485
2014-$145,361 (15 IN THE NATION)
TOTAL = $1,380,040.00 since 2000!!
2015 Fire Chief Ale MDA events
MDA /Rock Bottom fundriser events Join us for the upcoming fire Chief Ale nights at Rock Bottom Welcome to February.  It is time to ramp up for the 2015 MDA Fundraising.

Page Last Updated: May 26, 2016 (11:34:00)